As a comprehensive poultry management software, Livine is designed to meet the requirements of poultry enterprises, making their operations simpler and more efficient in nature. 
One of the many modules that Livine Software offers is the Hatchery Module.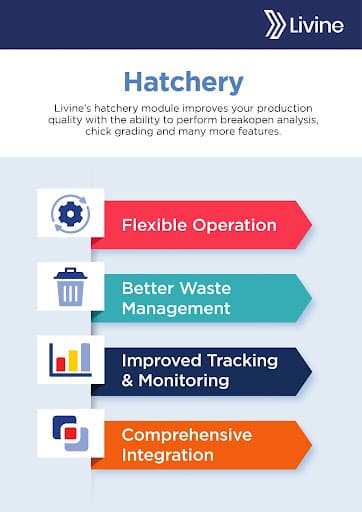 Hatchery module offers features to analyse, monitor and manage the complete life cycle from setting, till hatching. 
A seamless integration feature allows better integration with SMS, helping the farm owners to access important information right on their mobile devices.
Additionally, waste management is the most important aspect of the hatchery operations and the Livine software allows farm owners to keep a tab on proper wastage transfer to the rendering plant. 
With abilities like break-open analysis and chick grading, Livine is the complete solution a poultry farm requires, to be efficient and profitable in nature.