This is where a poultry software comes into the picture. But how does a poultry software ensure that the productivity goals of a poultry farm are met? How will the software change the way poultry farm is managed? Let's discuss.
Data Analysis
Keeping a record of daily performance, monitoring and analyzing the data plays a major role in achieving productivity targets in a farm. With a proper analysis, you will have knowledge about each individual sections in your farm, their productivity levels and any problems if they exist. Data prediction can also help mitigate any future errors/issues even before they arise.
A poultry management software will provide detailed analysis of data to help you monitor daily production and ensure that you do not deviate from your farm productivity goals.
Expense Monitoring
One of the most significant benefits of poultry software is the ability to keep a record of your daily expenses. An essential part of a productive farm is the ability to keep day-to-day records on expenses and use that data to analyze your cost.
A poultry management software will offer various dashboards and data reports to ensure that you have an accurate data of your costs, enabling you to understand your margins and cut down on any unnecessary expenditure.
Performance Analysis Chart
A basic need to analyze a poultry farm is the performance data. From the broilers & hatcheries to processing plants, the performance data of the entire farm will help you in analyze and make any changes required, accordingly.
With performance dashboards and reports based on daily activity data, available on the go, poultry management software provides them to ensure that you have access to your farm activity to help you make better decisions.
Disease Management
There are various diseases, most of them contagious, which are caused by bacteria, virus or fungal infections, which affect the poultry. It is very important to ensure that such outbreak of diseases are controlled and have a defense mechanism in place to tackle any unexpected issues.
Effective measures to control such an outbreak can reduce transmission and allow you to prepare well to tackle such situations. The data and information provided by the poultry software will allow you to foresee any health-related issues in the flock and take counter-measures. Also, poultry management software features enable proper maintenance of the farm and the flock to avoid any diseases. 
Feed Consumption
In a poultry farm, feeding the birds is the most significant expense. With proper monitoring of how much feed is consumed by the birds, you should be able to analyze how much food is required, without any wastage. Poultry software will ensure that you keep a tab on the consumption levels and reduce your cost by reducing wastage.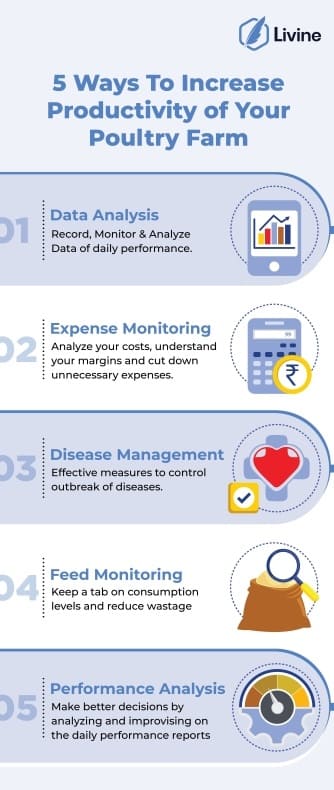 Conclusion
In a nutshell, managing a poultry farm is less of a hassle if you have the right poultry software at your disposal. Livine's Poultry Software offers the right features and modules to help you run your poultry farm efficiently. Livine's product suit presents a plethora of features to manage your poultry farm and increase your productivity.